Imagine if volunteers in your State were able to connect with all other volunteers in their zip code or legislative district based on interest.
Just as we need to create better alternatives to top down corporate controlled news websites, we also need to create better alternatives to top down billionaire controlled online social networks like Facebook and Twitter. I therefore have created a companion website to Create Your Own News Website. It is called Create Your Own Community Network. On this website, I explain step by step how to build a free open source tool called Our Community Network.
Never in the history of our nation has there been a greater need for independent people-oriented community organizing – social and political organizations empowered and built from the bottom up. For people to be able to join together, learn from each other and participate effectively in an independent bottom up political and/or social movement requires a well organized online structure. Having spent more than 30 years teaching courses in problem solving and team building, I understand the importance of building personal relationships in order to build trust and cooperation within any group. I have therefore created this tool for community organizing in order to help groups build and grow those important personal relationships. We call this tool Our Community Network.
As an example of how this tool works, I will be using Our Community Network to build a new kind of political network called the Common Sense Network. Instead of the old divide and control "Identity Based" politics of pitting Democrats against Republicans and Independents, while the billionaires control all three groups to rob us blind, the Common Sense Network will be organized in a bottom up fashion by local community members who want to organize around particular issues to solve or address problems that are facing their local community.
But if you have different concerns and want to start your own political movement, we will show you how to set up your own community organizing website on our website Create Your Own Community Network. One issue I think needs to be addressed before we can solve any of our political or economic or educational problems is to reform our election system. I discuss this issue more in the next section of this book. But before we discuss this issue, I want to explain what Our Community Network is and why it is better than Facebook.
Why Our Community Network is Better than Facebook
Many folks currently use Facebook pages for their online organizing and community building efforts. While Facebook can be an effective strategy initially and for very small groups, Our Community Network has several advantages over Facebook pages. Here we will describe just a few of these advantages.

#1 Secure Access Control System
The first advantage is that organizers have much more control over their web pages. For example, while Facebook often fails to share posts (unless you pay them money to promote the posts), with Our Community Network, everyone in every group always receives all of their messages and posts. Relying exclusively or primarily on Facebook for online organizing means that the owners of Facebook rather than the people themselves have control of the interface. At any time, the owners of Facebook can decide to limit the distribution of posts and how they are shared and with whom each group member's posts are shared.
#2 More Powerful Community Organization Tools
The second advantage of Our Community Network is that it gives organizers full access to the email addresses and all other important information of their group members -such as what topics each person is most interested in.
Facebook prohibits us from having access to the email addresses of our group members. One of the primary goals of a social or political network is to build an email list so that the group can communicate via direct email newsletters. So being able to gather and use this information is crucial for building an active community.
#3 Community Search and Common Interest Walls
Third, Our Community Network offers one of the most powerful Group Search and Organizing tools in existence. Community members can be organized by any of dozens of fields – including sorting by Zip Code, City, State or Issue. This organizing tool makes Our Community Network ideal for organizing a large group on a national level. Facebook does not offer any way to search and sort the full database of your group's registered members by location or interest. All one can do is enter names into the Facebook search box one at a time to send a message.
#4 Real Community Forums
Fourth, Our Community Network allows each group member to post full pages of content on their walls and profile pages rather than just a couple of sentences at a time. Facebook is designed to limit posts to just a couple of sentences. It is difficult to communicate complex issues in such a limited space. With Our Community Network, community members are free to post to their pages as much content as they like.
#5 Organize Events without Commercials
Fifth, with Our Community Network, there is no commercial advertising. Facebook posts commercial advertising on the Community Bulletin Board and on the Profile Pages of every Facebook page. These commercial ads are not only distracting – but they often promote messages that are the exact opposite of what our group is advocating for!
#6 You Control Your Own Network
Sixth, while Our Community Network allows members to set up their own Profile Pages and Group Pages, the owner of the Our Community Network website has full control over all pages and can thus encourage people to work together for the good of the entire movement. By contrast, with Facebook, the leaders of a political or social movement have no control over who creates pages for their movement. This leads to a confusing array of groups vying for the same readership.
#7 People are not forced to support Billionaires
Seventh, not all people like or use Facebook. If fact, most people do not use Facebook at all or rarely if ever log into Facebook. They are far more likely to visit a website that has a direct relationship to the issues they care most about.
#8 Our Community Network is a free open source tool. By contrast, Facebook is run by billionaires to maximize corporate profits. Billionaires then use the money they make from Facebook to elect corrupt politicians to office. Facebook is therefore part of the problem rather than part of the solution. The solution is to use free open source tools like Joomla and Our Community Network for political organizing rather than corporate for profit tools.
#9 A Community Topics Forum. While Our Community Network like Facebook has the option of allowing registered members to post to profile pages and share comments, Our Community Network also has the option of integrating with a community forum which allow users to post comments by topic rather than merely by people (similar to but better organized than a Facebook Group).
#10 Our Community Network integrates with free event and newsletter components to create a complete interactive network. While Facebook offers event pages, they have no newsletter component and thus members often never find out about important coming events.

Use Facebook to Direct Supporters to a Better Organizing Tool
It is useful for organizations to have a Facebook page. But the purpose of creating Facebook pages should be to reach out to folks who sign up to the group Facebook page and encourage them to set up a Profile Page on the groups own website to allow team members
Our goal is to help you create your own community network using Our Community Network… The Ultimate Online Organizing Tool!
It is this unique combination of more than 20 online web building tools that makes Our Community Network one of the most powerful online organizing tools that has ever been created.
Here is how you can create your own community network:
Begin with a Joomla foundation… Joomla is the only free open source web building platform that offers a process for building a complete and secure social network. Joomla makes large scale political organization possible because Joomla includes the ability to create Access Control Levels (ACL) allowing community members to be organized by categories within categories at many levels – all the way from local community organizers to state and national leaders – all on the same website! No other free web building tool offers this detailed ability to organize website participants.

Joomla can be duplicated by any campaign from running for the local school board to running for Congress. You can organize your own political and social campaigns in a low cost but extremely effective manner.

Joomla comes with many free tools that together can be used to create your own Community Network. One of the most important tools is called Community Builder which allows for custom registration of users and creates an automatic profile page for each user – allowing each user to play an active role in building the organization.

When a person first volunteers, they can be given the rank of Community Member with instructions on how to create their own page. As they create their page, they can enter their State, Zip Code and email address. As they volunteer for activities such as leading organizing events in their community, they can be given the rank of Community Organizer. As members help others learn how to lead events, they can be given the rank of Community Leader, City Leader, State Leader and/or National Leader.
Moreover, each member can not only post their own articles, images, documents and videos – but they can also form connections with other members of their community – much like Facebook. But better than Facebook, members of our Community Network can organize and reach out to other members of the community by searching fields of data entered by community members. For example, if there are one million members of the community, any member of the community can create a list of all of the members in their State, their City and/or their Zip Code. Members can also organize by topic or issue in addition to location allowing them to share data posted on their profile pages.

A second free tool, which integrates with Joomla and Community Builder is Kunena Forum – which allows groups to communicate with each other by location for community organizing and by topic for education and issue advocacy.

A third free tool is IddeIM which is a Private Messaging tool which integrates with Joomla, Kunena and Community Builder. A fourth free Joomla tool is ICagenda - a free events planner that allows the host to set a limit of event participants and allows participants to see who and how many have signed up for an event and how much space is left at the event.
A fifth free tool is a Newsletter – which integrates with the other Joomla tools to allow custom email newsletters to be sent to location groups or issue groups at the click of a button. Together, these five free web building tools are capable of empowering and expanding an entire social and/or political organization.

A sixth free tool called Wall Factory turns the website into a communication tool similar to Facebook – allowing individuals and groups to post to walls and share the posts of others from these walls. A seventh free tool we provide is an automated feedback system to insure that all comments to the website are answered in a timely fashion.

Together these seven tools, combined with the crucial Joomla Access Control system and numerous other tools, form a powerful community network that is actually superior to Facebook. Anyone who has used Facebook will have no problem at all learning how to post on their Community Builder profile page.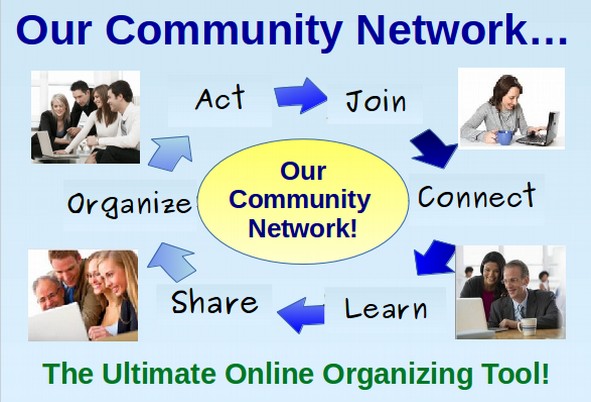 Feel free to set up your own profile page and use the Meet Team Members function and Connections function to see the possibilities of this revolutionary organizing tool.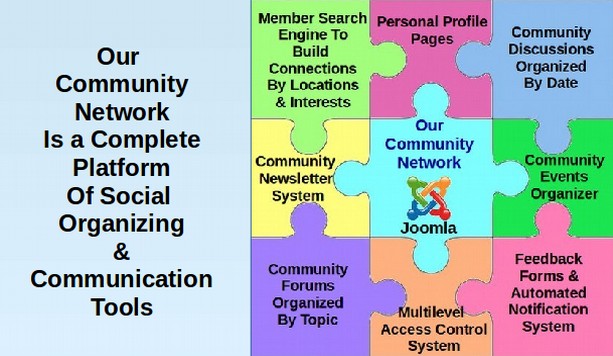 The Importance of Organizing By Interest and Location
Here is just one example of how Our Community Network is different. Our Community Network offers the ability to build teams and allow team members to make connections in very powerful ways that are not possible with Wordpress, Facebook or any other web building platform.
For example, when a person registers with Our Community Network and becomes a member of the network, they and or other members (depending on permissions set by administrators) can search the entire community network to instantly find other members of the community that live near them and share their interests.
Below is a screen shot of the Community Network search tool in action. Members can filter by interest, city, state. Zip code, legislative district, congressional district – or any other field that an administrator wants to build into the system!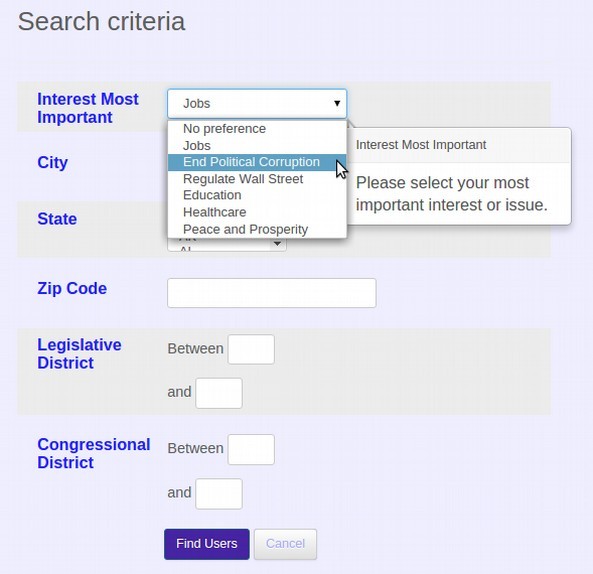 Imagine if volunteers in your State were able to connect with all other volunteers in their zip code or legislative district based on interest. They would not only be more successful but they would be able to continue these connections in their own communities to build a true local community organization for future events.
We have explained in detail what all of these changes are – as well as every step for creating your own community network on our website: "Create Your Own Community Network (dot) org.
If you are not comfortable making these changes yourself, you can hire us to build this system for you. Email us with a description of your project and we can set up a video conference to discuss how much it would cost to build the system you are interested in. We have built hundreds of Joomla websites for small business owners and non-profit communities. I am one of America's leading experts on building Joomla websites. I have also served on the international Joomla Certification Committee. I have also taught courses in HTML, CSS, Wordpress, Joomla, Dreamweaver and several other web building platforms during the past 20 years. Even with this level of experience, it takes me about one hundred hours to build a fully functioning community network.
What Our Community Network does not come with is an Online Store for selling products or a Donation System for raising funds. We describe how to set these systems up using free Joomla open source tools up in a different website – Create Your Own Online Store (dot) org. Nor does Our Community Network comes with a video channel or video conferencing system. We explain how to set these up using free open source tools on another website called Create Your Own Video Channel (dot) org.
What's Next?
Having a news website and a community organizing tool are just the first steps in creating change. If our kids are going to have a better future, we need to change the way elections are run. That's next.