The states with the most social distancing also have seen not only the most fatalities but also the greatest increase in fatalities.
In this section, we will first compare the corona virus fatality rates in states that mandated extreme social isolation policies to states with more moderate policies. We will then compare corona virus fatality rates in nations that mandated extreme social isolation policies to nations with more moderate policies. In every case, more social isolation increased fatalities.
Comparing US State Fatalities to Social Isolation Policies
The following table compares four states with early and extreme social isolation policies to three other states that are maintaining less drastic and more rational policies. Some states have employed much more draconian social isolation policies than other states. Here is a map of the states in the US that shut down "non-essential businesses." https://www.aljazeera.com/news/2020/03/emergencies-closures-states-handling-coronavirus-200317213356419.html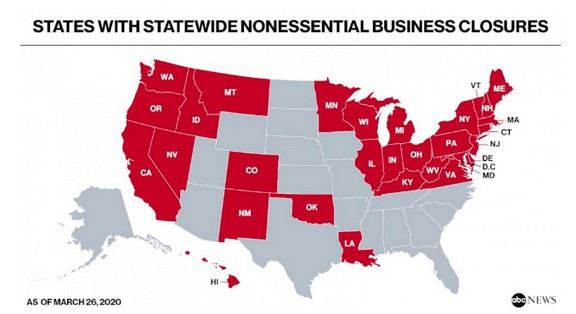 Below is a table comparing the corona virus death rate in states with sooner and high social isolation policies (WA, CA, NY & OH) to states with later and fewer isolation policies (TX, FL & AZ).
State

Mand.Clos biz date

CV Dead 3/ 27

CV Dead 4/29

Pop

Millions

Deaths per M 3/27

Dead per M

4/29

CA

3-17

85

1944

40

2

50

NY

3-21

519

23474

20

26

1197

OH

3-22

15

937

12

1

80

WA

3-22

147

801

8

18

110

FL

varies

29

1218

22

1

59

TX

varies

23

749

29

1

27

AZ

varies

8

304

7

1

44

SD

none

2

13

1

2

15
https://www.worldometers.info/coronavirus/country/us/
On Thursday, March 19, 2020, California governor Gavin Newsom became the first governor to order his citizens to stay at home, shutting down California's economy, the world's eighth-largest. Newsom ordered all of California's 40 million residents to stay home for two weeks. This was despite the fact that California had one of the lowest corona virus death rates in the nation!
The next day, Friday, March 20, Andrew Cuomo, the governor of New York, became the second governor to join the Hall of Shame – closing the businesses and jobs of 20 million residents of New York. Over the weekend, the governors of Ohio and Washington announced that they too were shutting down their state economies.
At the time, Washington had a relatively high death rate. But over half the deaths occurred in a single nursing home. Ohio's death rate was even lower than California.
Despite massive pressure, the governors of Texas, Florida, Arizona and South Dakota delayed shutting down all businesses in their states. Texas has 29 million people and Florida has 21 million. South Dakota governor Kristi Noem said, "we've been able to keep our businesses open and allow people to take on some personal responsibility."
Naturally, the media fear peddlers were quick to predict that Texas, Florida, Arizona and South Dakota would quickly be swamped with Corona Virus fatalities. However, as the above chart shows, there has been relatively little increase in the fatality rates of the three states who did the least social isolation. Meanwhile, the states with the most social isolation requirements have seen not only the most fatalities but also the greatest increase in fatalities.
Comparing Fatalities in Nations to Social Isolation Policies
There are a lot of nations in Europe. Only one of them, Italy, has adopted extreme social lock down policies similar to the policies enacted in Washington state and New York. Another nation, Belgium has come close. Most of the nations have taken a more moderate stance – for example, shutting down some schools but not all or shutting down a few businesses but leaving many open. Or allowing mass gatherings as long as the number of people was under 50.
Two nations in Europe, Sweden and Finland, have made compliance voluntary – similar to the voluntary policies of South Korea. Sweden in particular kept schools, bars, restaurants and cinemas open while only restricting gatherings that were over 50 people. The leaders of these "rogue" nations have taken a lot of heat from the Mass Hysteria Media – who remain convinced that anything other than a complete lock down will result in death on a massive scale.
But, as the following table shows, the nations with the least restrictive social isolation policies have the lowest corona virus fatality rates and the nations with the highest social isolation policies also have the highest corona virus fatality rates:
Country

(restrictions)

Deaths per million population 3/29

Deaths per million population 4/29

Italy max

192

458

Spain max

175

519

Belgium high

61

647

Netherlands mod

61

275

France mod

46

369

UK mod

21

384

Sweden low

18

244

Finland low

3

37

Germany mod

8

77

US high

10

186

China

2

3

S Korea low

3

5

World Average

5

29
Here are the sources for this table:
https://www.worldometers.info/coronavirus/#countries
https://www.politico.eu/article/how-europe-is-responding-to-the-coronavirus-pandemic/
Here is a chart showing the change in mortality per million population from March 1 to the end of April: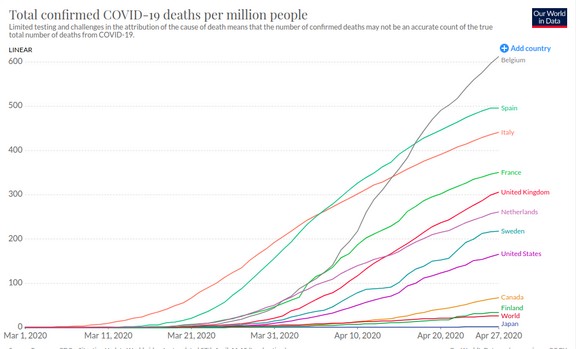 https://ourworldindata.org/grapher/total-covid-deaths-per-million?tab=chart&year=2020-04-27&country=OWID_WRL+BEL+ESP+ITA+FIN+FRA+JPN+SWE+USA+GBR
There is clearly a huge difference in mortality from country to country – even in neighboring countries. Also, it is clear that from region to region countries with lower social isolation restrictions have lower mortality. But what is really affecting the rate appears to be a combination of population density, air pollution, age of population, diet and smoking rates. Let's look briefly at some of these factors – none of which have anything to do with social isolation policies.
How can we account for the fact that nations in Europe with the lowest restrictions also have the lowest fatalities?
The truth is that there are many factors that determine the corona virus death rate. All of these factors have nothing to do with social isolation. Here we will look at some factors that influence the variance in fatality rates from country to country.
Age of Population, Air Quality and Fatality Reporting Processes
Italy has a very high fatality rate in part because it has the oldest population in Europe. It also has the worst air quality in Europe. It also is mis-reporting huge numbers of people as corona virus victims when they never were even tested for the corona virus and likely died of something other than the corona virus.
The Hidden Role of Vitamin D
Another reason Italy and Spain are at the top of the list for corona virus fatalities is because they have a very high rate of Vitamin D Deficiency. One of the primary causes of death due to the corona virus (and many other types of flu viruses) is cytokine storms. Vitamin D protects against this problem. However some countries have much high rates of Vitamin D deficiency than other countries. Here is a quote from the study: "A more severe deficiency of Vitamin D is reported in Italy and Spain compared to other countries. "https://www.medrxiv.org/content/10.1101/2020.04.08.20058578v1
We will later review the important role that Vitamin D and Vitamin C play in helping our immune system fight the corona virus. One reason that flu outbreaks typically disappear in the summer is that the sun helps us produce Vitamin D. Fruits also increase in our diet which provides us with more Vitamin C. The virus might still be there in the summer. But our immune system is better able to fight it due to the increases in Vitamin C and Vitamin D.
The Hidden Role of Smoking
One reason Belgium is near the top of the list is because they smoke a huge number of cigarettes each year (2440). Other nations with high smoking rates include Italy (1500), Spain (1500) Switzerland (1500) Netherlands (1460) and France (1100). Meanwhile, Sweden has one of the lowest cigarette consumption rates in the world at 716 per person per year.
Sweden is one quarter the cigarette consumption rate of nearby Belgium. Given how much cigarette smoking damages the lungs – making the lungs more susceptible to a corona virus attack, it should be no surprise that Sweden has a lot fewer corona virus fatalities than Belgium. https://en.wikipedia.org/wiki/List_of_countries_by_cigarette_consumption_per_capita
Officials in Sweden have said that forcing people to stay inside would be physically and mentally unhealthy. "We have to combine looking at minimizing the health effects of the virus outbreak and the economic impacts of this health crisis," said Stockholm Chamber of Commerce CEO Andreas Hatzigeorgiou. "The business community here really thinks that the Swedish government and the Swedish approach is more sensible than in many other countries."
A study comparing corona fatalities in Sweden to corona fatalities in the UK over time found that Sweden had a much better outcome. https://www.zerohedge.com/geopolitical/comparison-lockdown-uk-non-lockdown-sweden
Here are some quotes from this study:"In terms of reported cases, the data shows no evidence that the UK lock down approach has been any more successful than the Swedish approach. In fact, per million people, Sweden has had fewer cases than the UK. In terms of recorded deaths, again there is no evidence so far that the UK lock down approach has been any more successful than the Swedish approach. In fact, per million people, Sweden has had fewer deaths than the UK (265 versus 419 as of 5/3/20)."
Here is a chart from a study that compared the fatality rates per million in Sweden over the past month to a the fatality rate in a more extremely locked down nation, the UK.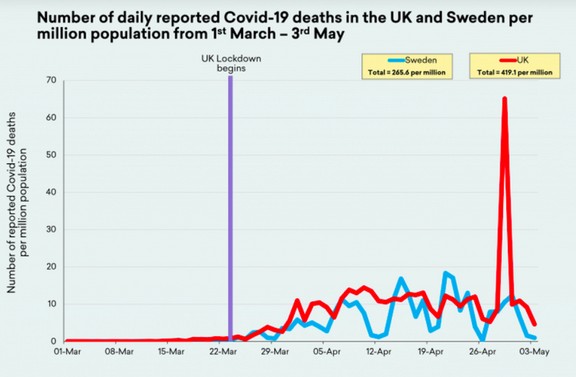 "The approach taken in the UK of keeping people in their homes and closing down huge swathes of the economy, has not had any more positive effect on reducing Covid-19 cases or deaths than the Swedish approach. Yet it will put millions out of work, it will destroy thousands of businesses, it will lead to a massive deterioration of mental health, it will lead to an increase in suicides, it will lead to old people dying on their own without their caregivers, and it already has led to an increase of state power on a scale never seen before. "
On April 17, 2020, the person behind the Swedish approach, Dr. Johan Giesecke, stated: "The Sweden approach is based on scientific evidence while the UK policy on lock down is not evidence-based. The correct policy is to protect the old and the frail only. This will eventually lead to herd immunity… The Imperial College paper was "not very good" and he has never seen an unpublished paper have so much policy impact… The flattening of the curve is due to the most vulnerable dying first as much as the lock down… Covid-19 is a "mild disease" and similar to the flu, and it was the novelty of the disease that scared people. The actual fatality rate of Covid-19 is the region of 0.1%. At least 50% of the population of both the UK and Sweden will be shown to have already had the disease when mass antibody testing becomes available. https://unherd.com/thepost/coming-up-epidemiologist-prof-johan-giesecke-shares-lessons-from-sweden/
I am extremely gratified that Sweden decided to adopt an evidence based approach – which will give all of us something to compare the rest of the world to. I also agree with Dr. Giesecke that it is just a matter of time until more test results are available – and when they come out in the next few weeks, it will expose the lock down approach to be a disastrous waste of time.
Comparing Nicaragua with other Central American Nations
Nicaragua, like Sweden has thus far resisted demands to shut down their economy. With 6.5 million inhabitants, Nicaragua had as of April 22nd only 2 deaths - the lowest in the entire region. It is followed by Guatemala, with 10 deaths; El Salvador, with 8 deaths; Honduras, with 35 deaths; Costa Rica, with 4 deaths; and Panama, with 103 deaths. In the two countries with the most draconian confinement measures (El Salvador and Honduras), deaths per million are much higher than in Nicaragua.
Country

Pop M

Deaths as of 4/29

Deaths per M

4/29

Nicaragua

6.5

3

0.5

Guatemala

6

16

2

El Salvador

6

8

1

Honduras

6

71

7

Costa Rica

4

6

1

Panama

5

178

41
Nicaragua has not established, nor will it establish, any kind of quarantine. The reason given is that Nicaragua is a poor country that cannot afford to close its economy. Most families live from self-employment and depend on their daily income. "We should not lose our heads and "shut down" the country, that we should continue working but take the precautionary measures." https://www.globalresearch.ca/nicaragua-covid-19-western-media-best-kept-secret/5708915
How can we account for the fact that nations in Central America with the lowest restrictions also have the lowest fatalities? Nicaragua is an example of a country using healthy living practices to cut down disease transmission. This is a win-win solution where the people stay healthy and the economy stays open. So there you have it. States with lower restrictions have fewer fatalities. Nations in Europe with lower restrictions have fewer fatalities. Also nations in Central America with lower restrictions have fewer fatalities.
What's Next?
Hopefully, the above examples have at least convinced you that we should take a deeper look at the interactions between social isolation and flu epidemics. In the next section, we will look at evidence that extreme social isolation policies might actually make flu epidemics worse – killing more people than it saves.