In 2015, Gilead was involved in a scandal where 73 people were killed during illegal drug trials
I want to make it clear that I am not saying you should just do nothing during a corona virus epidemic. What I am saying is that our best bet is to strengthen our own immune systems. More on this later. Our problem is that we are living in a Drug Culture that seeks out a magic pill cure for every problem. These magic pill cures make a lot of money for drug companies. But they often do more harm than good. In this section, we will look at two more popular magic bullet cures. These are an American drug called Remdesivir and a drug from Japan called Favipiravir. The "vir" at the end means they are supposedly anti-viral drugs. Both of these drugs were originally developed to treat the Ebola virus in Africa. But both failed there so they are both being recycled now to treat the corona virus.
Remdesivir
Remdesivir is currently listed as the top prospect by the CDC along with good old Chloroquine. https://www.cdc.gov/coronavirus/2019-ncov/hcp/therapeutic-options.html
Remdesivir is made by the California biotech Gilead Sciences. Here is what Gilead says about their wonder drug: "Remdesivir is an investigatory agent. It is not approved anywhere globally and has not been demonstrated to be safe or effective for any use. In anticipation of potential future needs, we have accelerated manufacturing timelines to increase our available supply as rapidly as possible. We are doing this before knowing whether remdesivir will be determined to be safe and effective to treat patients with COVID-19." https://www.gilead.com/purpose/advancing-global-health/covid-19/working-to-supply-remdesivir-for-covid-19
Remdesivir started off about 10 years ago as a chemical compounded cooked up in a laboratory and called 3a. No word on what happened to 1a, 2a or 3b. It works by stopping virus RNA from replicating. This may seem like a good idea until you realize that humans also have RNA. Hopefully, this drug can tell the difference between human RNA and virus RNA.
Remdesivir was intended to fight another deadly virus called Ebola. But it did not work very well. Not only did it not work, but it had severe side effects including one in four patients experienced organ failure, acute kidney damage, liver damage, nausea, vomiting, rectal bleeding, and elevated liver enzymes. https://www.nejm.org/doi/full/10.1056/NEJMoa1910993
So it was put on the back burner. Then in 2020, the corona virus came along and gave this drug a new life. Here is a quote from an article about this miracle drug: "Remdesivir, in the spotlight as scientists and governments scramble to find a treatment for the disease, took a circuitous route to center stage. Born as a general antiviral candidate, researchers threw it at an array of viruses and saw where it stuck. It bounced along from Gilead's labs to academic centers, nudged by both federal taxpayer dollars and support from the company. It kept turning up whiffs of potential in cells and animals infected by other corona viruses like SARS and MERS, but these bugs weren't causing sustained global crises."
Here is another quote: "The key is that it has to be delivered somewhat early in an infection, as the virus is still proliferating. In patients who develop severe disease, it's not the virus that's always the main problem. The body's own immune system can react by
heading into overdrive and causing secondary complications like organ damage. An antiviral can't head that off once it's begun." https://www.statnews.com/2020/04/06/gilead-remdesivir-data-coming-soon/
And that is the real problem. Because folks do not need drugs early in the corona virus process. Over 90% recover without ever going to the hospital – most with no symptoms at all. What is needed is a drug for severe cases and this is where Remdesivir fails.
Another problem with this drug is that the process used to make it is very complex and thus this drug is extremely expensive. It is hundreds of times more expensive than Chloroquine.
On March 22, 2020, the FDA made the drug even more expensive by giving it a special drug status. Here is a quote: "The Food and Drug Administration granted Gilead Sciences "orphan" drug status for its antiviral drug, remdesivir. The designation allows the drug company to profit exclusively for seven years from the product. Experts warn that the designation, reserved for treating "rare diseases," could block supplies of the antiviral medication from generic drug manufacturers and provide a lucrative windfall for Gilead Sciences, which maintains close ties with President Donald Trump's task force for controlling the corona virus crisis. Joe Grogan, who serves on the White House corona virus task force, lobbied for Gilead from 2011 to 2017 on issues including the pricing of pharmaceuticals."
"The Orphan Drug law is reserved for drugs that treat illnesses that affect fewer than 200,000 people in the US. But a loophole allows drugs that treat more common illnesses to be classified as orphans if the designation is given before the disease reaches that threshold. As of press time, there were more than 40,000 confirmed cases of Covid-19 in the US. But within weeks, the number of cases in the US will exceed 200,000."
Gilead Sciences' remdesivir was developed with at least $79 million in US government funding, according to a paper published last week.
The US National Institute Allergies and Infectious Diseases continued providing significant taxpayer funding to subsidize the development of remdesivir. NIAID grants to Columbia University, Vanderbilt University, University of North Carolina-Chapel Hill, and the University of Alabama subsequently found that remdesivir prevents virus replication in a range of corona viruses in human lung cells.
The Orphan Drug Act has helped pharmaceutical industry profits soar. In 2018, the median cost for a year of treatment with an orphan drug was $98,500 compared to $5,000 for drugs that don't have the designation, according to Gerald Posner, author of "Pharma: Greed, Lies, and the Poisoning of America."
Grogan, who in 2016 earned over $800,000 in salary and bonuses at Gilead, came under scrutiny in 2018 for his work, also at Gilead, on a Medicare payment model for a cancer treatment.
https://theintercept.com/2020/03/23/gilead-sciences-coronavirus-treatment-orphan-drug-status/
There is another problem with this drug. Most of the research on it was carried out and paid for by the US Army. When Gilead started, in 1988, Donald Rumsfeld was on its Board of Directors. He eventually became Chairman of the Board before moving on to be a career war hawk. In 2015, Gilead was involved in a scandal where 73 people were killed during illegal drug trials according to former Georgian Minister of National Security, Igor Guiorgadze. I imagine the other drug companies have killed even more.
April 23, 2020 Update: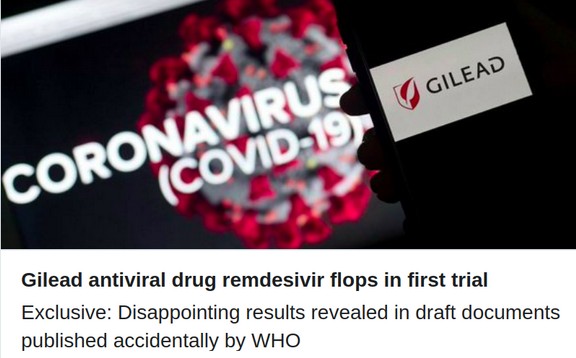 The results of a study were accidentally released which showed that Remdesivir failed its clinical trials. Here is a quote:
"The Chinese trial showed remdesivir — developed by California-based Gilead Sciences — did not improve patients' condition or reduce the pathogen's presence in the bloodstream."
Another miracle cure bites the dust.