It has been widely reported that Washington State ESD lost "hundreds of millions of dollars" to Nigerian scammers. In this report, we will look at evidence that this claim might actually be true. If you live in Washington State, you could be a victim even if you are still working and have never filed a claim!
For the week ending May 16, 2020, the Washington State Employment Security Department received 138,733 initial claims for unemployment insurance, a 27% increase over the prior week. Put another way, claims rose from about 109,000 to 139,000 – an increase of 30,000 claims in a single week. That sharp increase came as the number of initial jobless claims nationwide fell 9.2%, to 2.4 million, according to data released earlier in the day by the Labor Department.
Assuming initial claims were 109,000, claims should have fallen by 109,000 times 9.2 percent equals 10,000 claims to 99,000. We can therefore assume that the Nigerian and other scammers filed about 40,000 fraudulent claims last wek. Assuming each of these claims was paid an average of $2500, the total lost would be $100 million.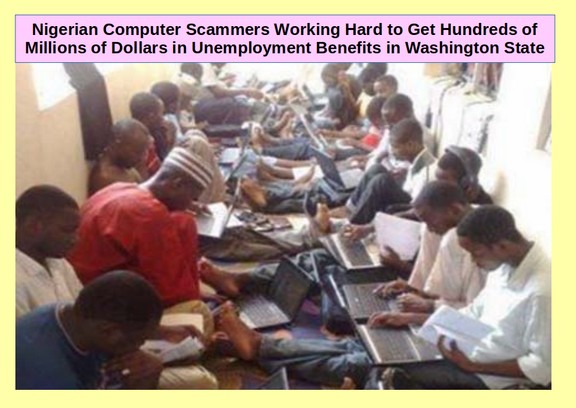 Suzi LeVine, commissioner of the state Employment Security Department (ESD), disclosed the staggering losses during a news conference on May 21, 2020. LeVine declined to specify how much money was stolen during the scam, which she said appears to be orchestrated out of Nigeria but she conceded that the amount was "orders of magnitude above" the $1.6 million that ESD reported losing to fraudsters in April. Others have estimated that the loss is "over $100 million." My analysis is that this is likely true.
However, it may be double this amount. This is because a week earlier, federal agents warned that the Washington state Employment Security Department was being targetted by Nigerian scammers. This means that the real damage likely started at least a week before.
On May 19, 2020, a security firm called Agari, issued a report stating that a Nigerian group called Scattered Canary has been filing fraudulent claims in Washington state since April 29, 2020. This could push the amount of damages up to $300 million or more.
https://www.agari.com/email-security-blog/covid-19-unemployment-fraud-cares-act/

Example email from Washington Employment Security Department (ESD) as a result of a fraudulent Scattered Canary unemployment claim. Note that the date on this email is May 17, 2020. Therefore, the fraudulent claims in Washington state went on for about 3 weeks!
More than 1.1 million people in Washington have filed for unemployment benefits since businesses started closing in March due to Governor Inslee's shutdown order, but state officials said that they believe some portion of an increase in claims seen in the past week are due to so-called "impostor fraud" claims. (my guess is that over 3 weeks, the number of fraudulent claims may be as high as 100,000 or 10% of the one million actual claims,)
The Secret Service said the fraud network is believed to consist of hundred of "mules," a term used to describe willing or unwitting individuals who are recruited to help launder the proceeds of fraudulent financial transactions.
To date, the state has paid out nearly $3.8 billion in benefits to more than 768,000 people. If 10% of this was due to fraudulent claims, then the total lost to fraud might be $380 million.
A US Secret Service memo explains that: "In the state of Washington, individuals residing out-of-state are receiving multiple ACH deposits from the State of Washington Unemployment Benefits Program, all in different individuals' names with no connection to the account holder."
A federal fraud investigator said "states like Washington simply don't have enough controls in place to detect patterns that might help screen out fraudulent unemployment applications, such as looking for multiple applications involving the same Internet addresses and/or bank accounts. Fraudsters need only to submit someone's name, Social Security number and other basic information for their claims to be processed."
Elaine Dodd, executive vice president of the fraud division at the Oklahoma Bankers Association, said financial institutions in her state earlier this week started seeing a flood of high-dollar transfers tied to employment claims filed for people in Washington, with many transfers in the $9,000 to $20,000 range. https://krebsonsecurity.com/2020/05/u-s-secret-service-massive-fraud-against-state-unemployment-insurance-programs/
Here is a comment from one security analyst: "The weak link here in WA appears to be the (ironically-named) "Secure Access Washington" (SAW) system. Its a unifying login/account system that was implemented to try to make it easier for residents to access various state government websites – rather than having a separate login for each State bureau/department's site. Unfortunately creating a "SAW" account doesn't require a lot of Personal Information, but then once you have a SAW account its pretty easy to use this "universal" login to access lots of government services, from Employment-Security, to the Dept of Licensing, to the Dept of Revenue and more.
Another security expert stated:"The WA ESD director's estimate of 700 fraudulent claims is grossly underestimated. Our system is literally shut down, and for those of us who have had to have our accounts frozen due to the fraud, if we find ourselves in need of UI benefits it's going to be an even bigger mess. I am unable to access any state sites now, and have to go to extraordinary lengths to prove who I am before I can again."
Live in Washington State? Here is How to Check if you are a Victim
Is there any way to check if a bad actor has filed an UI claim on me, other than by calling a state's unemployment insurance office? You can try calling ESD but will likely not get anyone to actually talk to.
Here was the advice from one person: Go to secure.esd.wa.gov site. Register for a user account. You will go through an activation procedure. They will email you an activation email and follow the instructions. Once that is done, login to system. Under "Eservices" select "for Yourself" option where you are selecting that your an an unemployment claimant, a job seeker or want to lookup past wages.
Next it will ask you to verify your identity, click the verify your identity button and answer the questions. All it asks are weak questions like social, legal name, birthdate, mailing address, etc. (WHICH IS THE PROBLEM) then hit next.
If someone has already signed up for benefits in your name with an account it will tell you your SSN is already associated with an account and show you a partial email address. And gives you a number to call if you think its fraud.
If you don't get a warning then in theory you now have an account on the ESD website and someone else can't file an electronic claim through the system in your name. You can verify no one has processed claims in your name by going to "My accounts" and selecting "Apply for payment benefits or manage your current and past claims" and it should list any claims in your name.
Washington State Governor Inslee Insists that Local Business Owners Must Pay for His Mistakes
In the past, the Employment Security Trust Fund was paid for by taxing employers for every one of their employees. Normally, employers would be on the hook for restoring any losses from these trust funds. However, because Employment Security Trust Funds all across the nation were depleted rapidly by the mass layoffs due to government lockdowns, the governors of most states have agreed to waive charging employers extra taxes to replenish the trust funds.
One of the few exceptions has been the governor of Washington state, Jay Inslee. Governor Lockdown has insisted that employers in Washington state will still be on the hook for billions of dollars in additional taxes to replenish the Trust fund in our state. It would be cruel irony if these same employers were now on the hook to pay back the hundreds of millions of dollars lost to Nigerian scammers as a result of Jay Inslee keeping our state locked down – even after there were almost no new corona hospital admissions in our state.
Opening up businesses would put an end to this scam
While Washington state saw a huge increases in (fraudulent) unemployment filings during the past week, the state with the biggest drop in filings was Georgia – which was one of the first states to end the lockdown. Despite predictions that Georgia would experience mass death for re-opening their economy, the corona fatality rate in Georgia is currently sitting at 167 per million – which is only slightly higher than Washington state which is at 141 per million – even though Washington state still remains almost entirely locked down.
It is way past time that all small business owners rose up and demanded that Jay Inslee ended this ridiculous lockdown. Please see our website commonsensebook.org for more information.
As always, I look forward to your questions and comments.
Regards,
David Spring M. Ed.
spring for schools at gmail dot com